To Donate, please mail a check to:
Joe Francis Haircare Scholarship Foundation
8101 Homestead Ave S
Cottage Grove, MN 55016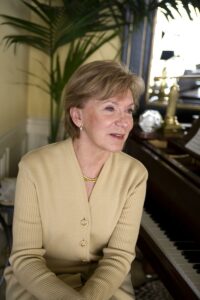 Florence Francis, Chairwoman
When Joe Francis died in 1994, this Foundation was established to honor his lifelong dedication to elevating beauty and the barber industry. Joe Francis was a shoeshine boy at the St. Paul Barber School, and became the youngest licensed barber in Minnesota at the age of 17. He opened a one-chair barbershop in 1958, introduced razor cuts to Minnesota in 1963, sold his first Franchise in 1970, and when he died in 1994 his publicly-traded company had over 700 salons in 40 states and five foreign countries. His corporation was rated as one of the top publicly held corporations in America for over 10 years.  This Foundation is the result of Joe's remarkable reputation to fight for small business people and influence many to pursue a cosmetology career.
Joe's loyal friends, business associates, and franchising employees all made contributions to help establish the Foundation, and in an effort to accelerate its financial strength, in 2002, Flo Francis gifted the Foundation $300,000. Flo continues her ongoing support through substantial annual gifts that provide for the funding of all operating costs, freeing the Foundation to consistently increase the number of scholarships awarded.
Please help the Joe Francis legacy continue and give future barbers and cosmetologists all over America the opportunity to realize their dreams! Please make a tax-deductible donation to Joe's Foundation, or purchase the candid biography: Joe Francis An American Entrepreneur. The entire proceeds for the book are gifted to Joe's Foundation. Your generous contribution is greatly appreciated.
To Donate, please mail a check to:
Joe Francis Haircare Scholarship Foundation
8101 Homestead Ave S
Cottage Grove, MN 55016

Joe Francis Haircare Scholarship Foundation Board of Directors:
Florence Francis, Chairwoman
Barb Francis, President
Jeanne Francis Dietrich, Selection Committee
Deborah Hardwick, Industry Expert, Selection Committee
Kim Larson, Secretary
Professional Services
Jason Good, Investment Advisor, Intelligent Financial Strategies
Linda Nelson, CPA
"Joe's goal, to help others get a piece of the American Dream, created a corporate culture that became a family. He'd give you the shirt off his back; he was that kind of a person."
John Reynolds
President, Educational Foundation, International Franchise Association